Unigraph Digital
If you're a sucker for an online innovation, there's nothing we like more than coming up with digital solutions to save you time, effort and money. Our in-house experts are confident, creative and extremely capable. Plus they can talk technical jargon with the best of them. So if you ever need us to speak directly to your IT department to help move a project along, you only need to ask.
Here's a taste of what we can do: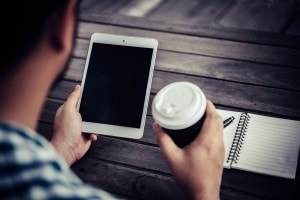 Stress-free content, document and asset management
Sometimes it isn't just keeping on top of literature orders that can cause problems. It's keeping the content relevant, up-to-date and consistent across all parts of the business.
One of our international clients sends out membership guides, renewal letters and updates to thousands of customers in hundreds of countries in multiple languages. So when a new benefit or a new product is introduced or the brand is updated, it is a sizeable task to update the content and keep customers in the loop.
To make life easier, we recently introduced a new content management system (its more than that – it looks after everything!) that solved countless problems in one go. It now acts as a literature library, a document builder and a workflow manager that helps to keep documents updated at the right time, in the right way, with the right people involved. The management information is incredibly detailed and because it records every last revision, there are no longer any questions around roles, responsibilities and literature ownership. The system is designed from the ground up to cover all the regulatory and compliance issues that they face.
Simple literature management
Managing literature requests can be a constant headache for marketing departments who are having to deal with a large number of items.
With this in mind, we have put together online literature Library's for a number of our customers that allows them to order brochures, leaflets and other marketing material any time they need it. It updates stock levels, tracks deliveries and even alerts the marketing team when it's time to order a reprint of popular items.
Bespoke messages in just a few clicks
Many of our clients like to create personalised communications for different customers, but don't have the time or resource to constantly create new artwork.
Our PDF Generator is a great solution. It lets you (or your clients) create a personalised PDF in just a few clicks, using a series of drop down boxes. It can be as simple, or as complex as you like. For example, if you wanted to create an advert, you could choose the headline, image and body copy from a series of options that are signed-off and ready to go. And in just three clicks you would have the final version.
Or if you have a lot of literature and a distributed sales force, our DAM (digital asset management) system could cut down the time it take to get the latest approved literature out in the field.
Lead Generation made easier
Whatever business you're in, you don't want warm leads to turn cold overnight simply because you don't have the resource to follow them up.
When a client had this problem with prospects who were interested, but not quite ready to go ahead, we came up with a simple, but practical solution. We created an online system that automatically generated follow-up emails and relevant messages to keep prospects interested until they were ready to purchase. Open rates, click-through rates and conversion rates were all fully tracked and it even helped to clean up the customer data as it went along.